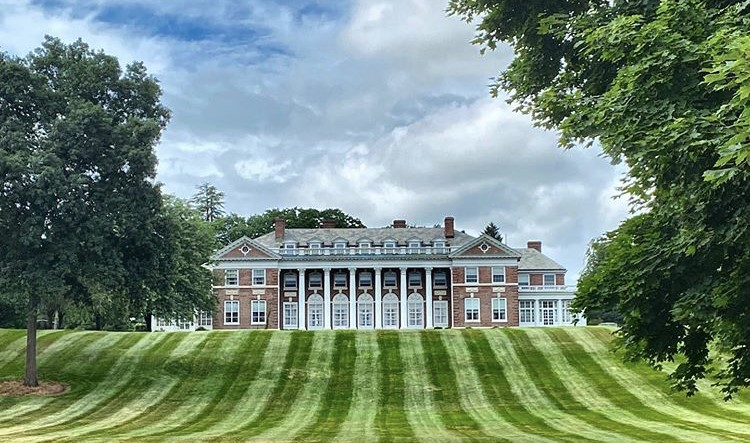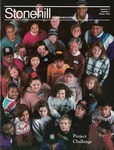 Description
This issue of the magazine includes the following features:
Project Challenge: An Educational Opportunity for Local Students. Stonehill's newest and most innovative educational and community outreach program offers an "opportunity of a lifetime" to local students. By Karen De Pasquale O'Malley and George J. Hagerty
Outstanding Alumnus 1992: Father Arthur Joseph Colgan, C.S.C. '68 In this alumni profile, the spotlight is turned on Father Bud Colgan, who has spent nearly half of his life working with the poor in Latin America. By Martin McGovern
8 Chief Kevin Callahan: A Talk with the New Director of Campus Police and Safety. A veteran of Stonehill's police force, newly appointed Chief Kevin Callahan explains the College's commitment to protecting the Stonehill Community. By Karen DePasquale O'Malley
Gaudete Liturgy: Executive Vice President, Fr. Robert Kruse, C.S.C. addresses the concept of "place" and its influence on community in the homily he delivered at the annual Gaudete Liturgy.
Stonehill Trivia: Remembering the Crosier Club
A Tribute to My Daughter by Professor Robert Rosenthal Professor Robert Rosenthal shares the pride he felt on the occasion of his only daughter's Bat Mitzvah.
Publication Date
Winter 1993
Keywords
Into the Streets, Richard "Dick" McCormack, Jeanne G. Hamilton, Roberta Zelin Jung-Stewart, Garry R. Greer, Mark Pelleteri, Alumni Weekend, W. B. Mason Forum, Natalie Rosenthal, Jean Hamler, Priscella TebbettsStonehill, Project Challenge, Outstanding Alumnus, Rev. Arthur (Bud) Colgan, CSC, Kevin Callahan, Campus Police, Gaudete Liturgy, Rev. Robert Kruse, CSC, Crosier Club, Robert Rosenthal
Recommended Citation
Stonehill College Office of Communications and Media Relations, "Stonehill Alumni Magazine Winter 1993" (1993). Stonehill Alumni Magazine. 39.
https://soar.stonehill.edu/alumnimagazine/39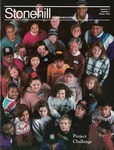 Included in
COinS