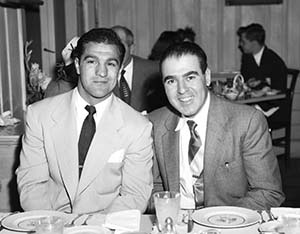 Rocky Marciano was one of Brockton's best known residents in the 1950s. Born Rocco Marchegiano in Brockton on September 1, 1923, he won his first professional fight on March 17, 1947. In 1952, he beat Jersey Joe Walcott for the world heavyweight championship. Marciano defended his title six times. He retired from boxing on April 27, 1956 at the age of thirty-one, with a perfect 49-0 record.
Yet, even as his career and fame skyrocketed, Rocky always had a special relationship with his hometown, living in the city of Brockton during his entire career before moving to Florida in the 1960s. Throughout Rocky's career, photographer Stanley Bauman captured not only his fights, but also that special relationship with Brockton. Included here are a selection of the Bauman Collection's Rocky Maciano related images.
Please note that these images are copyrighted and therefore are watermarked. For more information please visit https://www.stonehill.edu/offices-and-services/archives/bauman-collection
Printing is not supported at the primary Gallery Thumbnail page. Please first navigate to a specific Image before printing.